The most asked question of 2020 was "How to clean your home to reduce the risk of Coronavirus (COVID-19) infection"
What strange times we are living in. Who would have thought as recently as last summer that in March and April onwards; we would be confined to our homes on a government-sanctioned lockdown? The thought would have been absurd and laughable at best. – However, here we are!
Why a deep clean?
Keeping your home clean is very important, not just to minimize dirt, bacteria, and germs, but to create an overall feeling of well-being.
A deep clean on the other hand is where room-by-room everything is thoroughly cleaned, every surface is wiped down with a household disinfectant and detergent.
How does a virus spread in your home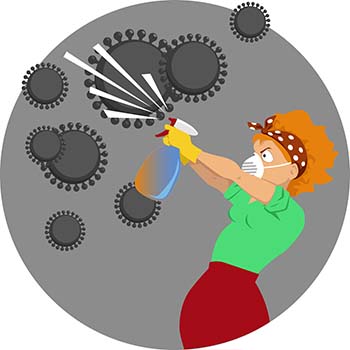 As humans, we touch our faces between 16 – 23 times per hour, and if the predictive movie 'Contagion' is correct (it was about everything else) then the average person touches their face between 2000 – 3000 times a day. Whatever the figure is, we touch our faces a lot. The problem here is that we are constantly touching surfaces, and this is one of many reasons how disease and viruses spread; we touch a surface and inadvertently our face.
There are 2 ways to clean deep clean your home – you can get in touch with us at Top Down Cleaning – we have a professional antiviral cleaning service that sanitises and disinfects all areas of your home, or, you can do this yourself.
We recommend the following steps when cleaning:
Wear disposable gloves, a mask, and an apron. (don't forget to bag and dispose of after 72 hours according to the Government Health dept. If you suspect there is Coronavirus in your property)
Start upstairs in your home or property.
Starting with 1 room at a time, move everything into the hallway and vacuum the room.
Use a good household cleaner – and with a disposable cloth clean everything with warm soapy water.
Using a disinfectant, spray and sanitize all surface areas in the room; door handles, phones, window handles, fasteners, headboards, chairs, light switches, etc (The government recommends using a combined detergent disinfectant).
One by one start moving items back into the room; clean them and wipe them down as you go.
Remember, to wash your hands immediately after cleaning.
Be smart and use social distancing as a rule for not having visitors over until this pandemic has run its course and the government ease restrictions.